Welcome back to Dream Weaver Novels on Blogger! I'm excited this week to host a young lady named Danielle DeVor on her blog tour. Danielle loves creepy things, so if you're into ghosties and ghoulies, she may be just your cup of cyanide...I mean tea. So, with no further ado...I give you Miss Danielle DeVor.
Welcome to the Book Tour & Giveaway for Constructing Marcus by Danielle DeVor. You can find Danielle's complete tour schedule at MythBehaving Book Tours.

Sixteen-year-old ghost hunter, Emma Hoffman thought that moving into an old Victorian was going to be awesome – ghosts galore.
Much to her delight, she discovers that the house is haunted—not by a ghost, but by a construct (a spirit created to be a servant). As she gets to know Marcus, the construct, he asks her to help him avenge his maker and find her killer. Emma's not too sure this is a good idea, she's a ghost hunter after all, not a detective, but she agrees to help him anyway. While trying to discover more information about the killer, Emma begins to have feelings for Marcus- feelings she isn't ready to admit. Then the sorcerer who killed Marcus's maker shows up at Emma's house with an insane plan to capture Marcus and absorb his power- Emma isn't having it. Marcus is hers. When the killer performs a spell that begins to steal Marcus's life force, Emma risks losing him. It's a race against time for Emma to figure out how to stop the sorcerer and his spell before Marcus fades away and disappears from her life forever.

Danielle DeVor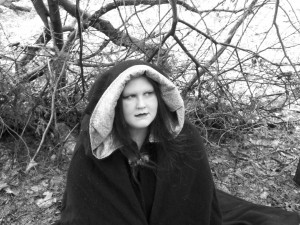 Danielle DeVor spent her early years fantasizing about vampires and watching "Salem's Lot" way too many times. After living briefly in Baton Rouge, Louisiana, she moved back to her hometown to write. When not writing and reading about weird things, you will find her hanging out at the nearest coffee shop, enjoying a mocha frappuccino. Danielle has been on a writing roll this year! With the release of
Tail of the Devil,
Constructing Marcus
and
Sorrow's Point
she already has three books out. You can find
Tail of the Devil
and
Sorrow's Point
at Amazon.
I had the opportunity to get up close and personal with Danielle. Check out what she had to say.
What was your inspiration for writing Constructing Marcus?
I had read a long time ago about a group of spiritualists who decided to see if they could create a spirit if they gave him a name, and started talking to him. They worked on it for over a year, and the spirit started speaking to them via a Ouija board. After that, I was hooked. The idea that a spirit could be created out of seemingly nothing fascinated me, and the seeds of Marcus were born.
What kind of research did you do for writing it?
I suppose you could say that I've been researching it my entire life. I've always read about creepy things and the occult.
How do you develop your characters?
Usually, I get a situation in my head I want to explore, and then, I think to myself, who is experiencing it. Then, something starts to grow until I have the start of a character. They grow throughout the story since I am a pantser.
If you gave one character a voice, what would they say?
Emma already has one, she just can't escape the book. She would probably be squawking about being trapped in there, and once she calmed down, she'd focus and ask if we knew of any haunted houses for her to investigate.
If one character could write to an advice column like Dear Aggie, what would their pressing question be?
Emma- Is it okay to be in love with someone who isn't exactly human?
How long have you been writing and how many books have you written?
I've always been writing something or other ever since I learned to put a sentence together. I've written poetry, songs, and plays. So, switching to prose was interesting. So far, I've written 6 books. I'm getting ready to start book #7.
Does where you live and/or life in general reflect in your writing?
I live in West Virginia. Lots of trees here. I'm not sure if it reflects in my writing or not. My characters do have some traits I have- like never backing down. That sort of thing.
Tell readers something quirky about yourself.
I eat my pizza with a fork. I have to eat all the toppings off first, and then I eat the crust.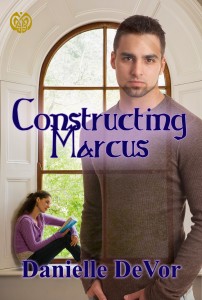 Buy Links for Constructing Marcus


Giveaway
Win one of two prizes:
ONE - $10 Amazon Gift Card
ONE - eCopt of TAIL OF THE DEVIL by Danielle DeVor
Must be 13+ to enter.
Danielle's Website
Danielle on Twitter
Danielle on Facebook
Danielle on Goodreads


This tour is brought to you by:

I hope you've all had a great time meeting Danielle DeVor; and that you'll take a few moments to check out her giveaway and books; and maybe check out MythBehaving Book Tours as well. It has been my honor to host Danielle on her book blog tour.
Thank you all for stopping by for a visit. Both
Dream Weaver
&
Rock Star
continue to be on sale for $0.99 on Kindle thru Sunday, March 2. Don't have a Kindle? It's okay. You can use Kindle Cloud Reader on your computer or smart phone. I love it!
I wish you all a wondrous week!!!
And As Always...
Dare to Dream!
Su
Just a couple pics to make you smile!
Aaawww! I am CUTE! Amn't I?
Do I have any hanging boogers?!
Aw! Gross! I know. You loved it! Have a happy day!